IN PARTNERSHIP
FOR YOUR RIGHTS.
Welcome to Law firm
Dr. Foerster, Wiesner & Colleagues
We offer a professional service package to address all your legal concerns. Specialized lawyers and lawyers with recognized further training in specific fields (Fachanwalt) bring you their expertise in family, succession, employment and traffic law, industrial property rights, tenancy, building, and company law, public procurement and IT law.

Our job is to advise and represent private individuals and companies in legal matters. But in cooperation with Dieding Tax Consultancy, located in the same building, we can also arrange timely and professional accountancy and tax consultancy services for our clients.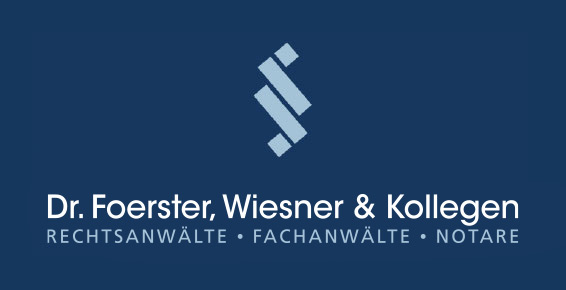 Rechtsanwälte
Dr. Foerster,
Wiesner & Colleagues

Hauptstr. 55
33449 Langenberg
Germany
Fon: +49 (0) 52 48 - 967
Fax: +49 (0) 52 48 - 72 31
E-Mail: info@foerster-wiesner.de

Office hours:
mo. - fr. 8:30 a.m. - 6:00 p.m.
we. 8:30 a.m. - 1:00 p.m.